Costa Rica has so many attractions it makes the mind spin. Tourism is the country's main source of income, and they make it worth your every dime. If you're looking for personal reflection, seaside adventure, sporting activities, or breathtaking natural attractions, Costa Rica has all that and more. Visiting a few of the places below will ensure you've experienced a variety of what Costa Rica has to offer.
Monteverde Cloud Forest Reserve
This reserve is comprised of more than 26,000 acres of tropical rainforest. The unbelievable biodiversity of the area makes it possible for more than 3000 species of animals and plants to thrive. The Monteverde Nature Center and Butterfly Gardens offers a myriad of educational nature exhibits and a plethora of various species of butterflies amidst three acres of simulated natural habitats. The temperatures and humidity of life in a mountain town also make it possible to cultivate some of the world's most delicious cheeses. Be sure to try some for a taste of local flavor.
Arenal Volcano
Costa Rico is known for its active volcanoes. The Arenal is tall and imposing and strikes a magnificent and stately figure for sightseers. There are also numerous activities and attractions to take part in. Hiking, fishing, and boating are among the most popular.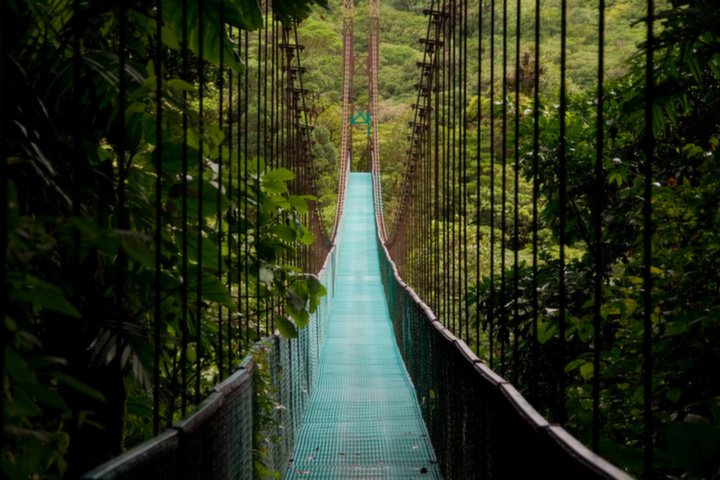 Golf
There is a certain satisfaction to playing golf surrounded by lush rainforests, passing monkeys, and the view of regal volcanoes. Costa Rica is rife with majestic golf courses. The Reserva Conchal, the Hacienda Pinilla, and the Four Seasons courses are all in the Guanacaste area and offer challenging professional layouts. The Mid Pacific area has the Marriott Los Sueños and the Los Delfines courses which offer exotic scenery and exigent layouts.
The "take it easy" vacationer and those who yearn for adventure have both found the perfect destination. Magnificent golf courses, amazing natural wonders and an exotic landscape make every minute worthwhile. Just some of it's best features include:
Award winning golf courses
Erupting and resting volcanoes
Butterfly gardens and nature centers
Rainforests
Hiking, fishing, boating
Costa Rica has fun and excitement at every turn. No matter which destination you experience, you'll leave with cherished memories and an urge to return. So, don't wait until it's too late, get Costa Rica Group Travel Rates now to get the party started!